The Pronovost P-516 dump trailer is a practical alternative to a dump truck when working in confined spaces or with smaller loads.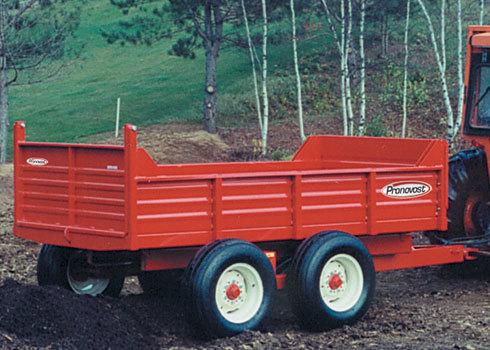 When hitched to a tractor or pick-up truck, the P-516 is a durable and maneuverable dump trailer.
The P-516 has an overall length of 166 inches and an overall width of 86 inches with an interior dimension of 55inches by 117 inches. Its tandem axles and four tires can support up to eight tons of dirt, rock, building materials or agricultural supplies.
A mini-excavator, skid steer or backhoe can easily clear the 32-inch bed height and 16-inch side panels and 24-inch front and back panels.
The P-516 dumps loads from three sides, making it convenient to position the trailer. The single-action cylinder raises the bed to a 47-degree dump angle to slide loads onto the ground.
If you are carrying items that are longer or wider than the P-516's bed, the side panels fold down, and the front and back panels can be removed.
Neff Rental carries the Pronovost P-516 dump trailer at many of its branches. For more information about renting the Pronovost P-516 dump trailer for your next construction or agricultural project, call the nearest Neff Rental branch at 888-709-NEFF or visit www.NeffRental.com .
Image via: https://pronovost.qc.ca/en/agricultural-products/dump-trailers/off-road-dump-trailers/p-516